Retail store gondola shelving units supermarket shelf shop shelves
Gondola Shelving also called retail shelving, supermarket shelf, shop shelving. All thesesturdy free standing units and accessories are made with metal construction. And it will take care ofa variety of stores and merchandise. One good reason metal store shelvingare very popular is because of their longevity. Manufactured to last for ages in the future,all of these commercial and retail store display racks providereliable service,practically unlimited adjustability and customizable options. These shop shelf are available in single or double-sided models. The single-sided shelving units are prepared for place against walls.As the double-sided fixtures are ideal for creating store aisles, or stand-alone displays on the sales floor. The bottom gondola shelf belongs to the base, which raises off the floor, allowing lots of clearance forshopper accessibilityand also aisle cleaning or mopping.

Amongst the best features this retail display supermarket rack provides is their modular structure. In the small gift shop or store,1 or 2 fixtures might be entirely enough.In contrast, large supermarkets, convenience store , they can line these fixtures up alongside each other and back-to-back. They will create entirely customizable shopping aisles. Because of supermarket shelf rack rugged construction and simplicity of use. Our metal peg-board racks, shelves, and accessories are available with demanding pricing and fast shipping. Driving them to a great option for commercial environments for any size.
The illustration of different type of retail shelving.

Double Sided Supermarket Shelf

Double-sided retail shelving is a free-standing unit with retail shelves on both sides. And also they called island section.Ideal for placeat the center of your shop floor to help divide the store and create aisles. Retail shelving units are made toefficiently utilizes space. Creating flow and path to visitors and promoting clients to explore through the whole store.Through this method it will boost sales and impulse buys. Retail shelving units come in many different heights and depths to fit different shelves requirements.

Single sided Gondola Shelving

Single sided retail shelving also known as wall shelving. It is built to have shelves on one side of a free-standing unit, and can fixed to the wall for more stability. Wall shelving units feature plain back panels as standard but also can be changed to peg-board backing according to your products and needs. The normal height to wall shelving is 2100mm but there are lots of more heights can be bought.

End Shelf

End Shelf, end bays, also called promotional bays. They're shelving units can be put on the front or back of a gondola shelf. Often to highlight promotional products or fast selling lines.End shelf also tidy the ends of a run of gondola units, giving a clear and completed look to the store. Like all shelving units, an end shelf is flexible and adaptable. And their shelves is also removed and be change to pegboard panel if need.
How to combine gondola units.

There are two kind of way to explain how to assemble individual supermarket displays gondola to a line of integrated gondola units.
1.The first way is to see gondola shelving as starter unit and add-on unit. As below picture showing. The only different between starter unit and add-on unit is starter unit have one more upright than add-on unit.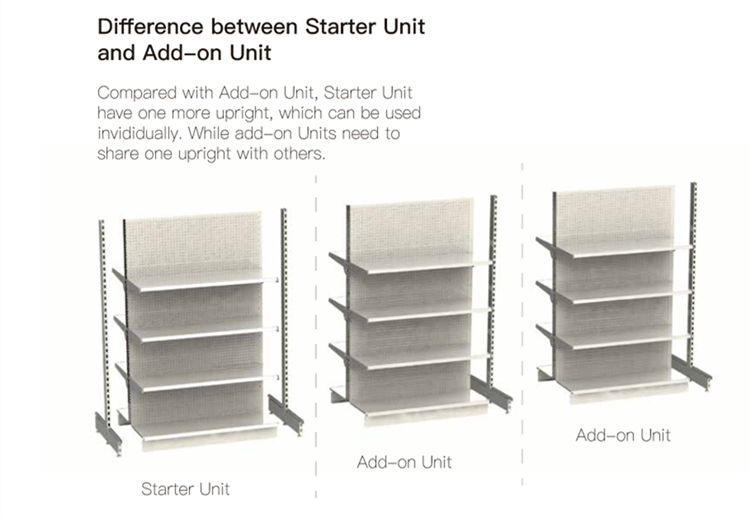 2. The second way to explain how individual gondola assembled to gondola units. To see gondola units assmeble as several sections and one extral upright. See the picture below. If still any confuse, don't worry , contact our salesman, they will handle your confuse.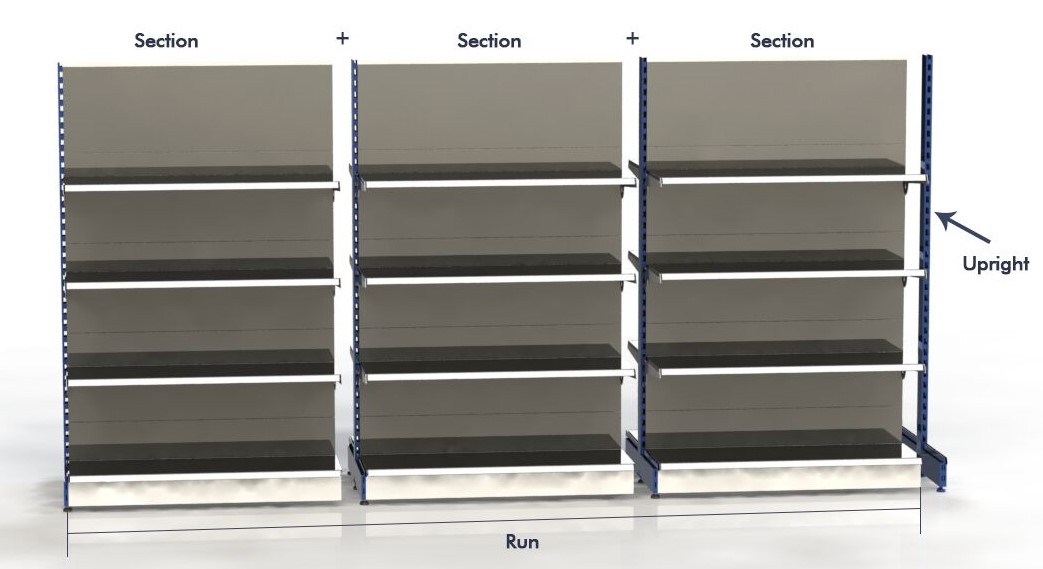 Endless Accessories for supermarket shelf

Supermarket shelf have rugged construction and ease of use. Our metal peg-board racks, shelves, and accessories are available with competitive pricing and fast shipping. Making them a great choice for commercial environments of any size.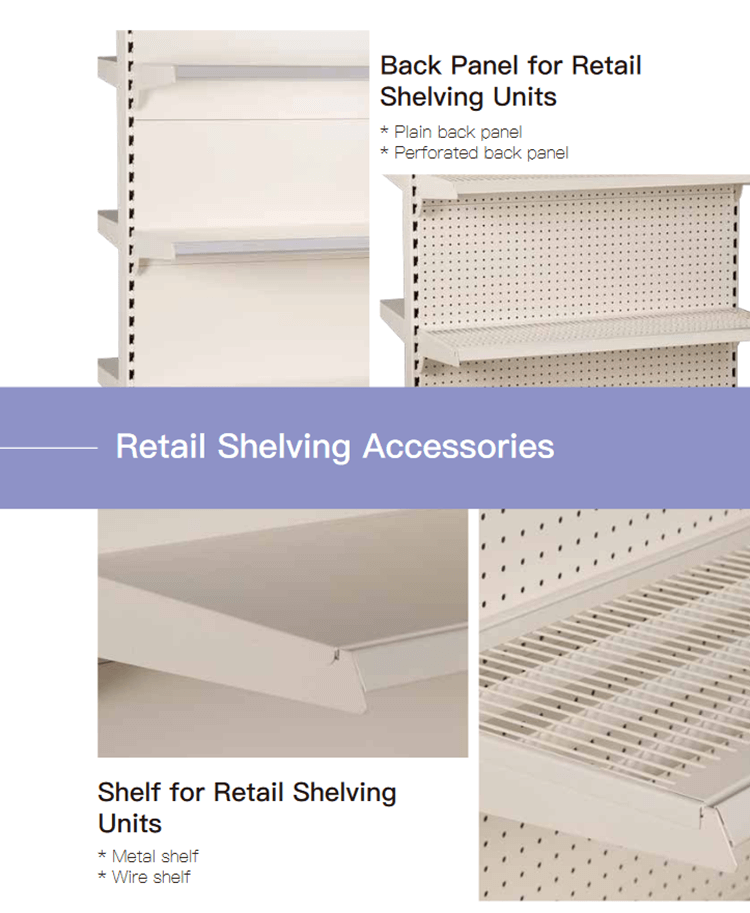 Highbright is a reliable manufacturer of gondola shelving from China.

See different style of gondola shelving we have , choose the best style you love!